BMW CarPlay & Android Auto Retrofit Kit (EVO generation)
Compatible with the majority of BMWs produced since 2016 
Includes Apple CarPlay and Android Auto
USB multimedia and charging port
Full-screen mode
Easy control with the original iDrive and steering wheel controls
Works with your existing iDrive screen (screen pictures for illustrative purposes only)
Supports front and rear view camera retrofits
Doesn't void your car warranty
DESCRIPTION
Emtronika CarPlay multi-media interface (MMI) is a multimedia bridge connecting your phone to your BMW wirelessly or via cable. It seamlessly integrates with the factory iDrive display, controller, and steering wheel controls (only in compatible vehicles) and works like the original BMW CarPlay system.
The CarPlay retrofit is simple to use and enables you to easily access your iPhone or Android apps on your BMW's native dashboard screen (NOTE: The screen is NOT included in the CarPlay MMI kit). 
The CarPlay system is fully compatible with the most popular apps and more are being added to the list every day. You will immediately be able to use Spotify, YouTube, WhatsApp, Messages, Google Maps, Waze just to name a few!
Emtronika CarPlay retrofit, unlike the original BMW system, out of the box comes with Apple Carplay and Android Auto support. So, you will be able to use it regardless of the phone you have or plan to get.
Finally, the CarPlay MMI also integrates with your BMW's mic and speakers, so you will be able to use Siri, use hands-free calling, and enjoy the highest quality sound.
Apps
This BMW CarPlay upgrade gives you direct access to navigation, messaging, music, parking, EV charging, and even food delivery apps. Most popular iPhone apps already support CarPlay. More importantly, the list of CarPlay supporting apps is growing each day!
Not sure what apps are supported by the system? Take a look at some of the most popular ones.
Wireless & Wired Connection
Emtronika CarPlay MMI enables you to connect your phone both wirelessly and via a cable. 
You only need to pair your iPhone to your CarPlay MMI once and the MMI will automatically recognize your phone each time you get in the car. No more entangled cables or searching for your iPhone in your pockets. 
CarPlay will support hands-free calls, so you will be able to take calls without taking your eyes off the road.
Not a fan of wireless or like to charge your phone while in the car? Great, Emtronika CarPlay MMI also has a wired connection. Hook up the cable to a phone and it will immediately connect to your CarPlay MMI and start charging.
USB Multimedia & Charging Port
Our BMW CarPlay solution comes with a USB port. Use it to connect and charge your phone, and play videos and music on your iDrive Screen from a USB thumb drive.
The MMI's USB port can also be used for future CarPlay software updates.
CarPlay Full-Screen Mode
With our CarPlay MMI you can enjoy your CarPlay apps on the original BMW display in full-screen mode.
Screen Mirroring
Turn your car into a full-blown entertainment system with the wireless Airplay screen mirroring function. Stream any video or a song from your iPhone into your BMW's display. This is an especially fun way to watch YouTube!
Wireless phone mirroring is only available on iPhones. Android phones for mirroring require a cable connection. 
Note, that screen mirroring may be restricted on some apps or content as a result of the copyright holder's DRM protection.
Easy Control With iDrive
Navigate your BMW CarPlay apps with your factory microphone for Siri voice commands or the iDrive controller. Depending on your head unit, you can also control the Carplay with your steering wheel controls (Note, send us your VIN to see whether it is supported in your car).
CarPlay MMI isn't compatible with the touch function, however steering wheel controls, iDrive controller, and Siri/Google Assistant offer plenty of freedom and convenience for everyday use.
Wireless Android Auto Support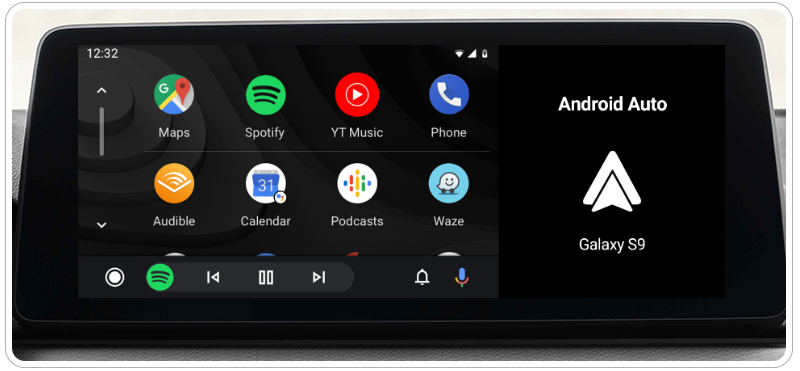 Unlike the original BMW Carplay system, Emntronika CarPlay also comes with Android Auto. If you or your family members use Android smartphones, connecting these devices to your BMW will be a breeze too!
For BMW Android Auto wireless usage, your phone has to support the wireless Android Auto. In case it does not, you will still be able to use the Android Auto via USB.
Integrates with Front & Rear View Cameras
Emtronika CarPlay MMI module seamlessly integrates with our front and rear view cameras.
The front and rear view cameras can be activated on-demand by pressing a button or configured to appear on your screen after shifting the gear to reverse or drive.
Package Contents
The following accessories and parts are included in the package:
LVDS cable (LVDS-NBT-C19)
WiFi antenna
AV/USB cable (AV-USB-GP68)
CAN power cable (CAN-NBT-C19)
MIC adapter cable (MIC-22C-DZ)
Connections
CAN Power
Wifi antenna
USB front view and rear view camera input
LVDS OUT
LVDS OUT
VGA signal input - exterior 360 input
INSTALLATION
WARNING: We can only guarantee the compatibility of Emtronika CarPlay with your exact vehicle if you provide us with your car's Vehicle Identification Number (VIN).
Depending on your vehicle the installation of the kit may take from 2h up to 4h.
CarPlay MMI retrofit for BMW is customized for each model individually due to the different configurations of every vehicle. However, no matter your car specs, our BMW CarPlay upgrade is always plug & play and doesn't require any permanent modifications to your vehicle. Thus, it is completely lease-friendly and doesn't void your car's warranty.
You can also choose to install the upgrade by yourself or hand it to professional installers. Our detailed PDF instructions and dedicated technical support will make it easy for you to follow the process if you decide to DIY. 
The PDF installation instructions appear in the personal account within 72 hours after the purchased product is shipped.
COMPATIBILITY WITH BMW MODELS
This kit is compatible with the following BMW models.
If you are unsure if the kit fits your car or you still have questions after reviewing the table below, please send us the VIN number of your car. Our specialists will send you the fitting parts and answer any further questions you may have.
Supported Head Units: EVO-generation / EntryNAV2 / ENTRYNAV / EVO  (ID5-6generation)
| | | |
| --- | --- | --- |
| BMW 1 Series | F20/F21 | 07/2016 - present |
| BMW 2 Series  | F22  | 07/2016 - present |
| BMW 3 Series | F30/F31 | 07/2016 - present |
| BMW 4 Series  | F32/F33/F36  | 07/2016 - present |
| BMW 5 Series  | G30/G31 | 10/2016 - 06/2020 |
| BMW 6 Series | F06, F12, F13, G32 | 07/2016 - present |
| BMW 7 Series | G11/G12  | 07/2016 - 02/2019 |
| BMW X3 Series | F25, G01 | 03/2016 - 2021 |
| BMW X4 Series | F26, G02  | 03/2016 - 2021 |
Reviews
No customer reviews for the moment.
3 other products in the same category:
CarPlay / Android Auto Solutions
CarPlay / Android Auto Solutions
Compatible with the majority of BMWs produced since 2009 
Includes Apple CarPlay and Android Auto
USB multimedia and charging port
Full-screen mode
Easy control with the original iDrive and steering wheel controls
Works with your existing iDrive screen (screen pictures for illustrative purposes only)
Supports front and rear view camera retrofits
Doesn't void your car warranty
CarPlay / Android Auto Solutions
Compatible with the majority of BMWs produced since 2012 
Includes Apple CarPlay and Android Auto
USB multimedia and charging port
Full-screen mode
Easy control with the original iDrive and steering wheel controls
Works with your existing iDrive screen (screen pictures for illustrative purposes only)
Supports front and rear view camera retrofits
Doesn't void your car warranty